Muck Madness Hurricane MH (Cane)
Muck Madness Bailey's Irish Cream SH
Cane is out of FC AFC Rev Blu Genes
and Soar'in The Pines At Englewood
Cane joined our family to add some strong Field Trail & hunting back-ground into our breeding program.
He earned his AKC "Master" Title at The Berkshire Ct. Retriever Club Test in July 2016. He qualified for the Master National in 2017, 2018 and 2019 earning his "plate" in 2019!
He is focused, consistent and loves his work. He is great around the house with our young grandchildren.
Bailey is our "chocolate". She is out of Rosie's first litter.
She loves retrieving and has a lot of drive. She has a master pass and we continue our journey towards a master title. She loves her work and will retrieve all day long.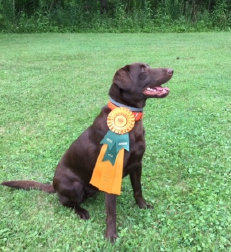 Muck Madness Retrievers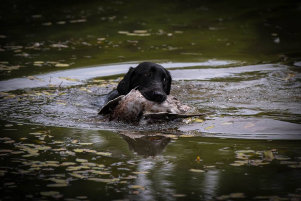 Muck Madness Perfect Storm
Storm is our youngster from our second Rosie/Cane litter
She loves to retrieve and is a sweetheart around the house.
So far she has her JH title and 1 pass towards her Sr. title